LOD365™ is a complete tech solution for legal teams built on Microsoft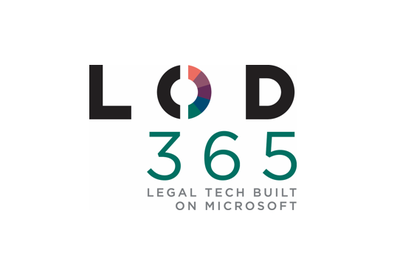 LOD365™ unlocks the full potential of your existing Microsoft suite
Our philosophy is to use the tech you have rather than buying bespoke software that only legal will use.
Through building on the tech you have, your data will be seamlessly connected through our use of over 15 Microsoft's apps. Let us configure LOD365™ for your team.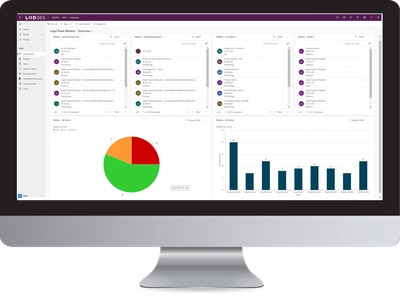 What is LOD365™?
It combines more than 15 Microsoft apps, especially designed to enable in-house legal to work smarter.
It's more than just a tech solution. Designed and built by LOD's Microsoft and legal ops experts, we combine in-house legal ops experts with Microsoft specialists to ensure successful implementation & change management.
It's a seamless, integrated and automated legal tech system for managing matters, knowledge, documents and contracts.
LOD365™ comprises of three modules which we have designed and built using more than 10 Microsoft applications. The modules are Matter Management, Document Management and Contract Management and can be implemented separately subject to your needs.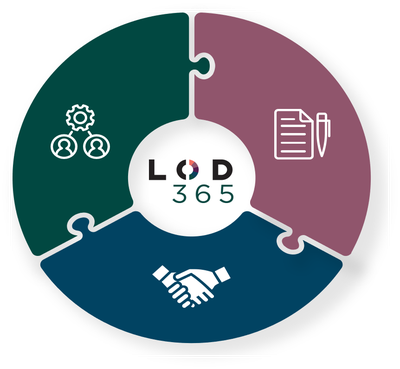 Matter Management:
Native integration with Outlook for email management, including drag and drop tracking of emails to matters
Automated workflows for the intake, triage and allocation of matters
Configurable dashboards and reports on critical data relevant to your organisation
Track matters to external counsel & spend, track documents & contracts, track the matter activity in a central location.
Document Management:
Central source of truth to maintain accruable & reliable records of your organisations information.
Real-time collaboration with in-built version control & audit trail
Customised fields for quick location and filtering of info with full content searching for powerful and relevant results
Native integration with Matter Management and Contract Management to eliminate double handling data
Contract Management:
Automate the generation, and negotiation of contracts using dynamic forms and playbooks
Digitise the approval and execution of contracts using integrated electronic signatures
Maintain and store a single repository of executed contracts for automated reminders, contract reporting and management of key contract data
Why Microsoft?
LOD is a certified Microsoft Partner.
Microsoft Security - no need for additional security clearances. You have the peace of mind in knowing you are backed by Microsoft's security.
Your system and your data - Microsoft is the backbone of our system which means that YOU own and control the system and the data and you aren't locked in with us (but we're here to support when needed).
Cloud based & mobile - cloud based mobility for your team & clients, with access to full suite of Microsoft mobile apps and real-time collaboration.
Familiarity & Ease of Use - keep working from the systems you are familiar with like Outlook and Word, sync to your OneDrive and link to your Office Account for a familiar and secure interface, reducing friction and increasing user adoption.
First class development - Benefit from over 200 native Microsoft connectors, ongoing support and first class product development.
Why LOD365™?
Imagine a legal team where the tech helps and doesn't hinder – where the tech can give each person up to an hour a day back.
Configurable & customised - LOD365™ is designed by in-house lawyers who understand the problems that most legal teams have. We provide everything from simple, out-of-the box options through to highly customised solutions.
Low Cost - the incremental cost of Microsoft solutions is nominal and you aren't locked into hefty subscription fees.
Reporting - rich data & insights without manual input by legal.
Quick to implement with high user adoption & acceptance.
The only legal tech you need - a full end-to-end legal operations system, all within the familiar surroundings of Microsoft.
Why us?
You need great people to deliver great tech
We combine in-house legal ops experts with Microsoft specialists to ensure successful implementation & change management.
We understand in-house and Microsoft: You may have Microsoft but internal IT doesn't have time to configure it for legal. We understand your needs and design your requirements in the language of IT.
Our people - meet the LOD365™ Team here.